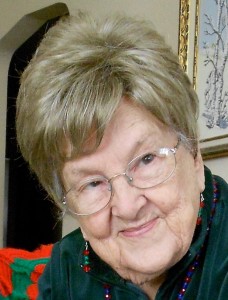 Vivian Bernice (Stein) Wicker
Vivian Wicker was hard to convince she'd turned 99. "Am I really 99?" she asked several times on that birthday, and we'd point to two gigantic gold Mylar balloon 9s hovering above her. It would have been easier to persuade her she was 66 and that we'd incorrectly displayed the balloons upside down.
Vivian — a woman of unlimited kindness, optimism and generosity — didn't quite reach triple-digit-balloon status and died Aug. 11 in Monticello. Those qualities live on in the hearts of the many family and friends she touched.
Vivian Bernice Stein was born April 21, 1920, in Cokato, Minn., and lived there most of her life. She graduated from Cokato High School in 1938 and began working in a dizzying assortment of businesses: a restaurant, pharmacy, bank, railroad, museum, schools (from tidying up a one-room country schoolhouse as an eighth-grader during the Depression to district secretary at Dassel-Cokato High School) and a law office. She balanced all the hard work with a willingness to help anyone who came to her with questions or problems.
She married Ralph Wicker in 1948 and they started a family, raising three children in Cokato. She also was active in the Cokato Evangelical Lutheran Church: baking pies for and working at the church stand at the Corn Carnival for 50 years, teaching Bible lessons in Sunday school to 4-year-olds when they least expected it, and making quilts for graduating seniors of the congregation or for those simply in need of a gesture and practical gift that warmed their bodies and souls.
Those quilting hands worked magic in other ways, as Vivian enjoyed crocheting, knitting, sewing, embroidery, made greeting cards and possessed the knack for playing the piano by ear. She also had the talent and patience for calligraphy, which turned many a simple announcement or a selection of poetry into a work of art.
Vivian is survived by her daughter, Ann McDonald of Mashpee, Mass.; son, Brian (Robin) of St. Michael; grandchildren Kristin (Tom) Maynard of Auburndale, Fla., and Matt McDonald of Hyannis, Mass.; and great-grandchildren Elizabeth and Amy Maynard of Auburndale. She was preceded in death by her husband, Ralph; daughter Kay Wicker; son-in-law Douglas McDonald, and by three brothers and five sisters.
A memorial service will be held at 11:00 AM on Tuesday, August 20, 2019 at the Cokato Evangelical Lutheran Church. Visitation will be on Monday, August 19, 2019 from 4-8 at Swanson-Peterson Funeral Home and Cremation Service of Cokato. In lieu of flowers, memorials may be given in Vivian's name to St. Benedict's Senior Community in Monticello, where the staff cared for her with boundless love and compassion. God bless you all.