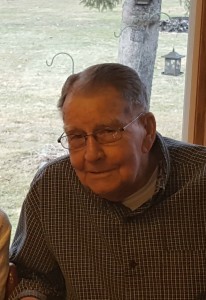 Carl Elroy Carlson passed away at Cokato Manor on August 19, 2019.
Memorial Service: 1 PM Friday August 30, 2019 at Albion Evangelical Free Church 11480 5th Street NW. Cokato Minnesota
Visitation and meal: 11AM – 1 PM Friday at Church
Interment: Mt Hermon Lutheran Church Cemetery.
Carl Elroy Carlson was born on the family farm in Cokato Township on August 22, 1925 to Frank and Alvina (Peterson) Carlson. He grew up on the farm and graduated from Annandale High School in 1943. After high school, he worked on the Ruge farm in Maple Lake, MN. He entered the United States Navy on August 19, 1943. He served as a radioman during World War II on ships stationed in the Philippines.
On February 24, 1951, Carl married Norma Larson at Mt. Hermon Lutheran Church. Their 68 years together were blessed with the birth of five children. Carl farmed but also had a variety of jobs including driving milk truck, feed salesman, factory worker at Minnesota Rubber, and in retirement worked at Cub Foods. He was a devout Christian, man of integrity, husband, father, grandfather, and great-grandfather.
Carl passed away at Cokato Manor on August 19, 2019. He had reached the age of 93 years, 11 months, and 27 days.
Survivors include his wife Norma; their children Barbara (Richard) Barsness, Joan (Stephen) Schesvold, Steven (Jane) Carlson, Kathleen (Scott) Banta, and Janet (Jon) Saksa; grandchildren Betsey Alessi, Amy (Jeff) Boyle, Sarah (Evan) Anderson, Mark (Amanda) Barsness, Elizabeth (Rob) Driftmeyer, Jenny Schesvold, Jordan Schesvold, Stephanie (Luther) Kemp, Elizabeth (Kalin) Kauppila, Andrew (Christine) Banta, Jacob (Rachel) Banta, Lucas (Lisa) Banta, Molly (Shaphan) Kirkpatrick, Heidi (Jacob) Nelson, Shelly (Caleb) Spitler, and Brian (Abi) Saksa; and 26 great-grandchildren. He is further survived by his sister Genevieve Larson, brother-in-law Donald Carlson, and sisters-in-law Joan (Beeb) Larson and LuAnn Larson.
Carl is preceded in death by his parents, Frank and Alvina Carlson; parents-in-law Emil and Edith Larson; siblings and spouses Andrew (Evelyn), Waldor (Millie), Lawrence (Billie; Florence), Richard, Ellsworth (Edna), and Verona (Bernie) Broman; siblings-in-law Lorraine Carlson, Gordon Larson, Philip Larson, and Daniel Larson; and grandson-in-law Mario Alessi.