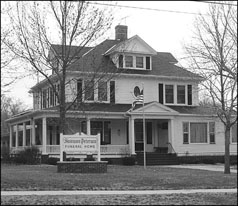 655 Broadway Avenue South, Cokato
The funeral home in Cokato, where it is now, was built in 1902, which was the residence of C.A. Swanson. It later became the funeral home in 1933.
Over the years, there have been many changes. The addition of the chapel, renovating the casket display room, adding handicap accessibility.
Click Photos to view larger
1224 6th Street, Howard Lake

The funeral home in Howard Lake was purchased in 1988 by George and Mark Peterson. This location has also seen many changes, most recently is the remodeling of the chapel, family lounge, restrooms, and becoming handicapped accessible.
Click Photos to view larger