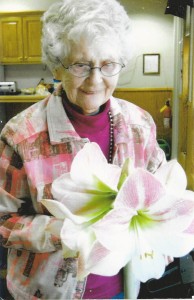 Marie Komula, age 94, of Cokato, passed away peacefully, with her son and daughter-in-law at her side, at Meeker Memorial Hospital in Litchfield the evening of Feb. 27, 2014.
Marie was born at the Cokato Hospital on May 27, 1919, to John M. and Minnie E. Rhodin. She was named "Marie" because her uncle, Carl Haggberg, just back from serving in World War I, said: "All the girls in France are named Marie."
Marie grew up on the Rhodin family farm northeast of town, attended country school, and graduated from Cokato High School in 1937. She completed her teacher's training education in Hutchinson.
Marie entertained the idea of becoming a teacher from an early age. Her younger sister, Lyla, recalled many hours of playing "school" with Marie when they were both youngsters—complete with Lyla having to finish dozens and dozens of arithmetic problems that Marie had prepared for her even after the play sessions were over!
All in all, Marie spent almost 50 years as a school teacher in Wright County. About half those years were spent in one-room country schools, and the other half she spent as a teacher's aide, specializing in reading, in the Howard Lake and Dassel-Cokato systems after the country schools were all consolidated in 1971. Besides her regular teaching duties, Marie was famous for her country school Christmas programs, which many said were the best in the area.
During World War II, Marie and her close, high-school friend, Ellen Niemela, headed to Los Angeles to find work. Marie worked a number of secretarial jobs while in California, and met her future husband, Toivo Komula, there after the war. They were married in 1948 and came back to live in her hometown.
Marie taught school well into her seventies. After retiring, she built up an impressive doll collection, honed her gardening skills, and thoroughly enjoyed going to—and putting on—garage sales. She was expert at being able to sell almost anything at her garage sales, including recently sprouted maple trees that she dug from her yard, potted and sold for 50 cents each.
Marie spent her later years in the assisted living facility at Brookridge in Cokato, still going to garage sales, tending her potted plants, and reading—always reading!
Marie was preceded in death by her parents and by her husband Toivo. She is survived by her sister, Lyla Lutter, son and daughter-in-law, Steve Komula and Gayle Whitney, and several nieces and nephews, as well as numerous friends and hundreds of former students—some of whom kept in touch with her for many decades.
A memorial service for Marie will take place in the chapel at Cokato Manor at 11:00 a.m. Saturday, March 15, with Rev. Tim Wheatley officiating. Lunch will be provided in the Activities Room following the service.