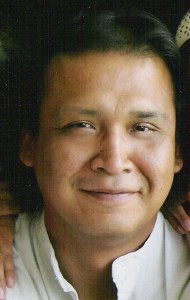 Fabian Lee Quincy, age 49, of Cokato, died Wednesday, March 25, 2015, at his home.
A funeral service will take place Monday, March 30 at 4 p.m. at the Swanson-Peterson Funeral Home in Cokato, with visitation one hour prior to the service.
Arrangements are with the Swanson-Peterson Funeral Home in Cokato.
Fabian was born Oct. 8, 1965, in Minneapolis, a proud citizen of the Leech Lake Band of Ojibwe, and raised by his parents in Eden Prairie.
At 18, Fabian joined the 82nd Airborne Division of the military, where he served for six years.
Fabian started a family in a house that was always filled with laughter and love. He lived in Cokato with his family for 21 years.
Fabian loved his home, and it was his sanctuary, where he could always be himself. He was shy until you got to know him, but he had a great sense of humor, loved to laugh, and enjoyed life. Always a trickster, he enjoyed playing with and teasing his family.
Taking care of his family was most important to Fabian, and he was a great provider and protector. He looked at the world with an insightful, tolerant, and understanding eye.
Fabian is survived by his wife, Tina; daughter Mariah; parents Duane and Donna Stokke; brothers John and Kevin; and many nieces and nephews.