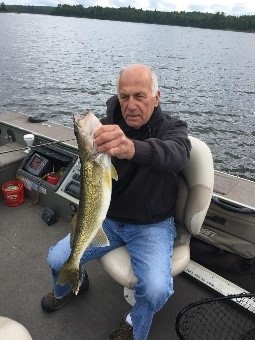 Larry Maurice Meehan passed away on Wednesday, September 21,2022 at Orchard Path Senior Living Community in Apple Valley, MN at the age of 80.  Larry was born June 17,1942 at Iowa Methodist Hospital in Des Moines, Iowa, the son of Max and Bessie (Green) Meehan. He was baptized and confirmed in his faith. Larry received his education at Buffalo Lake Public School and graduated with the Class of 1960. He attended St. Cloud State University. Within his first year of college, his father Max became ill and Larry returned to Buffalo Lake to help run the family business, Meehan Bros. Oliver Implement. Larry later completed his Associates of Arts degree at Minneapolis Community College.
Larry was united in marriage to Rita Harkman on December 27,1963 in Cokato, MN. They resided in Buffalo Lake where they raised their family and remained active in the community. In 1968, Larry began work in the telecommunications industry at Minnesota Central Telephone Co. working throughout MN and South Dakota as an Installer/Repairman which later became known as Contel in Hector, MN. Larry held several positions as Plant and Facility Engineer as well as Plant Superintendent of Operations until relocating to the Contel office in Mound, MN in 1984. Contel later became GTE and Larry continued to work as an engineer until 1995. Larry retired in 2006 after enjoying several part-time jobs that were scheduled around life at the cabin, golf, travel and meaningful time with family and friends, including his most recent, delivering the morning paper to residents at Orchard Path with his beloved companion Hubert the black lab.
Larry served as a member of the Buffalo Lake Fire Department, Rescue Squad, and Lions Club and was on the board of trustees at Buffalo Lake United Methodist Church and Bethel United Methodist Church in Mound. He was also a member of the Royal Arch Masons of Minnesota. A life-long dog lover, Larry served as a volunteer at Can Do Canines in New Hope, MN as a dog driver, foster and ambassador.
He is loved and deeply missed by his daughter Tamie (Mark) Morken; son Mark Meehan, daughter-in-law Missy Meehan; grandchildren, Kylie and Adam Morken, Max and Jack Meehan; brother Jon (Lisa) Meehan, many cousins and dear friends.  He is preceded in death by his parents, wife Rita and brother-in-law Mark Harkman.
In lieu of flowers, memorials preferred to the American Diabetes Association (www.diabetes.org) or the charity of your choice.
A graveside service will be held at 11:00 AM on Thursday, October 6, 2022 at Stockholm Lutheran Cemetery, Stockholm Township, south of Cokato, MN.
Arrangements by Swanson-Peterson Funeral Home & Cremation Services of Cokato, MN 320-286-2534, www.swansonpeterson.com