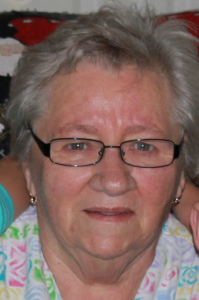 McKinley, Helga Christa
age 79, of Cokato went to be with the Lord on April 12, 2015 surrounded by her family at home, after a brief battle with cancer. She was born April 22, 1935 in Selisia, Germany to Alfred and Emelia (Roesner) Haasler. Helga was raised in Germany and united in marriage to Lyle McKinley on October 3, 1958 in Germany. This union was blessed with the birth of 6 children. In 1959, following Lyle's discharge from the U.S. Army, they made their home in Minnesota.
Helga enjoyed cooking for her family and friends, and spending time with them. She was an active member of Stockholm Lutheran Church.
Preceded in death by her parents, husband, son, Lynn A., and brother, Herbert.
Survived by her children, Christina Linquist of Chanhassen, MN, Frank (Anne) McKinley of Dassel, MN, Fred McKinley of Delano, MN, Barbie Kuntz of Cokato, MN, and Laura (Joe) Koopman of Cokato, MN, Many grandchildren and great-grandchildren, sisters, Christa Langner of Germany and Barbel (Hans) Poschinger of Germany, sister in-law, Karen (Ron) Anderson of New Mexico, along with several neices and nephews.
A memorial service will take place at 2:00 PM, Thursday, April 16, 2015 at Stockholm Lutheran Church of Cokato with visitation 1 hour prior to the service at church.