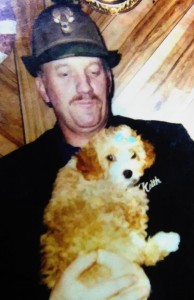 Keith William Kegler, age 67, of Winsted, lost his battle with cancer Tuesday, April 2, 2019.
A Mass of Christian Burial will take place Monday, April 15 at 11 a.m. at Holy Trinity Catholic Church in Winsted, with interment at a later date.
There will be visitation at the church one hour prior to the Mass.
Cremation services and funeral arrangements are being handled by Swanson-Peterson Funeral Home of Howard Lake; www.swansonpeterson.com.
Keith was born Jan. 13, 1952, in Hutchinson, to William and Lorraine (Marshall) Kegler.
He was employed at Edco, Barton's, and Polyfoam.
Keith enjoyed visiting with friends and acquaintances. He liked country western music, and being outdoors doing yardwork; and he was never happier than when he was out on his lawnmower, cutting the lawn.
Keith is survived by his special friend, Linda; sister Paulette; uncle and aunt Arnie and Elaine Marshall; and many friends and other relatives.
He was preceded in death by his parents, William and Lorraine Kegler.