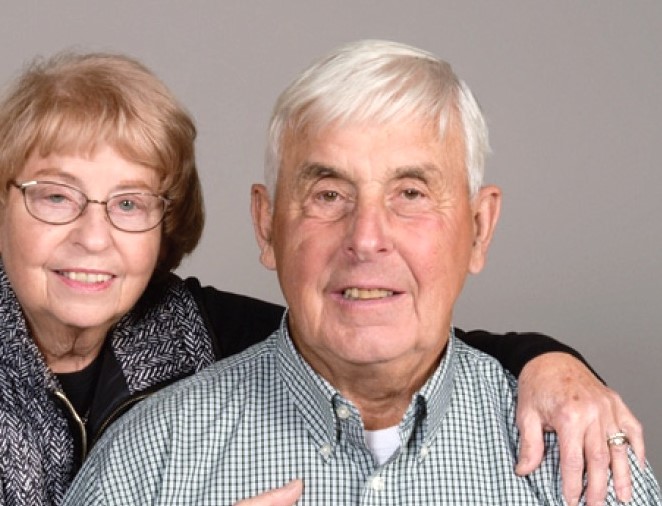 Timothy David Youngren, age 86 of Howard Lake, MN passed away June 29, 2022, at The Lodge assisted living facility in Howard Lake. Tim and his twin brother, Ted, were born March 29, 1936, in Minneapolis, MN, to Theodore and Eunice (Schwalen) Youngren.
He was baptized at Calvary Lutheran in Minneapolis and confirmed at Evangelical Lutheran Church of Cokato. He graduated from Howard Lake High School in 1954. On September 24, 1960, he was united in marriage to LaVonne Carlson at Evangelical Lutheran Church of Cokato.
Tim served his country in the United States Army from 1957 through 1958. He was honorably discharged, to return to the farm.
Born in Minneapolis at the Swedish hospital with brother Ted, early in their childhood the Youngren family moved south of Waverly to a rental farm. Later, their parents purchased the Youngren Farm in Howard Lake.  Tim and LaVonne subsequently purchased their farm, just down the road, north of Waverly in the 1960's and enjoyed raising their family at the farm.
Tim was a selfless man with a strong faith in God. He was a dairy and crop farmer that enjoyed life to the fullest. Tim was accident prone. The most notable of which was losing his thumb in a waterskiing accident. As a result of this accident, he met LaVonne where she was a receptionist at the hospital.
He had time for everyone, and no one was a stranger for very long. He loved treats and coffee, butter on everything, mowing the lawn, snowmobiling and ATV rides with friends, and feeding and watching birds. He loved spending time with his family whether working at the farm, around a dinner table, at the lake, or on vacation.
Traveling and the outdoors were passions of Tim and LaVonne's including enjoying time in Arizona with LaVonne's family, traveling to Germany, Israel, New Zealand, and many national and state parks. He enjoyed every school event: sports, music, FFA, and 4-H.
He was Grandpa Tim, Timmy, or Timbo to more than his family, and he loved person and the joy they brought to his life.
Tim is survived by his wife, LaVonne, children Cindy (Roger) Heuer, Scott (Kim) Youngren, and Wendy (Ryan)Youngren Doran.  Grandchildren; Alyssa (Adam) Farrell, Josh (Brittany) Myers, David Youngren, Courtney (Travis) Duxbury, Derek (Emily) Youngren, Carl (Ellie)Heuer and Dylan (Kennedy)Youngren and Tessa (Troy) Taylor of New Zealand.  Great Grandchildren; Kayden, Grayson and Haylen Farrell, Brodee, Addisyn, Evelyn and Charleigh Myers, Maren, Myla and Maggie Duxbury, Teddy and Henrik Youngren, and Lucy and Julia Heuer.
Preceded in death by his parents Ted and Eunice Youngren, sister Lois Hoseth, twin brother Ted Youngren and great granddaughter Rosalie Heuer.
A funeral service for Tim will be held at 12 noon on Saturday, July 9, 2022 with visitation beginning at 10 AM at St. John's Lutheran Church in Howard Lake. Arrangements by Swanson-Peterson Funeral Home & Cremation Services of Howard Lake, MN 320-543-3401, www.swansonpeterson.com