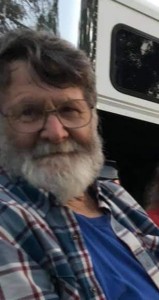 Daniel Vito Williamson was born on April 9, 1949, in Jamaica, New York (a borough of Queens) to Anna Catherine (Kelly) Williamson and Nelson Williamson. He passed away at the age of 72, on August 21, 2021, at the St Cloud Hospital, after a short but courageous battle with cancer.
Dan spent his childhood in the Bronx and Long Island, New York where he started driving oil trucks and working on furnaces in the Long Island area when he was 14. In 1969, Dan entered the military, proud to serve in the US Marines as a driver for the Colonel, stationed in Fort Pendleton, CA. He served for two years before transferring to the US Marines Corps Reserves, where he served for another two years. He was a member of the Kingston American Legion for 23 years. For most of his life Dan was an over the road truck driver, except for a few years when he ran Danny's Towing. He was always driving something. There was not much about trucks and trucking that he did not know, and he enjoyed it all.
Dan met Marie (Hickman) Wendler in 1985, and they married in April 1990. The date was picked because it was Friday the 13th, which Dan felt was lucky. And it was – they enjoyed 31 years of marriage together.
Dan had a quick sense of humor and was always ready for a good story – he could visit for hours. Nieces and nephews remember him talking to them in his "Donald Duck" voice and his "meep meep / honk honk" as he bumped their noses. There was never a stranger in his life, only friends he had just met. He could and would talk to anyone. In the past couple of years, he enjoyed camping with the horses and relaxing around the campfire with friends and family. His family was able to fulfill his bucket list wish by visiting the Grand Canyon this past June.
Dan is survived by his wife Marie; children Daniel Jr (DJ) Williamson and Julie of California, Dennis Williamson of New York, Robert Wendler of South Dakota, James and Lisa Wendler of Virginia, Melinda Wendler of Buffalo, MN and Mark and Becky Wendler of Waverly, MN; brothers Joe and Al (Joanne) of New York; daughter-in-law Danielle Williamson. He is further survived by 22 grandchildren and 3 great grandchildren – all of whom he loved deeply and was very proud of. Also surviving are brothers-in-law and sisters-in-law, nieces, nephews, and a great many friends.
He was preceded in death by his parents, Anna Kelly and Nelson Williamson; mother and father-in-law Sylvia and Denzel Hickman; sisters Gloria Williamson and Jo Anne Williamson; brothers-in-law Clark Hickman and Martin Anderson; and great grandson Brayden Mazuera.
A funeral service will take place at 3:00 PM on Wednesday, August 25, 2021 with visitation 1 hour prior to the service at Swanson-Peterson Funeral Home in Cokato. 320-286-2534, www.swansonpeterson.com