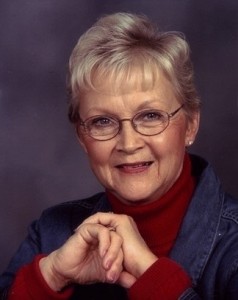 Maureen Wessman, 79, passed away at her home in Cokato on May 21, 2018. She was preceded in death by her husband, Ralph, a few short months earlier on March 24, 2018 in Sun City, Arizona.
Maureen Jane Young was born February 26, 1939 in Hutchinson, the first of five children and the only daughter to Donald and Doris Young. The Youngs owned a farm in Stockholm Township and later in Lamson. Her brothers recall their sister often playing the piano at home, spending a lot of time with school friends and doing her best to keep her younger brothers in line, despite her gentle nature. She attended country school at Dahl School until 6th grade, participated in 4-H Club, and was active in music groups at Cokato High School, where she graduated in 1957. Maureen was confirmed at Stockholm Lutheran Church.
Maureen married Ralph Wessman on February 15, 1958 at Dassel Covenant Church. The couple lived in Minneapolis until returning to Cokato in 1960 where they would settle for the rest of their lives. Together they raised five children, Todd, Kerry, Brent, Bethel and Sara. Maureen was a devoted homemaker, wife and mother. In the early years while raising young children, she tended to the egg business they had at their farm, under the Jack Frost/Gold'n Plump umbrella. In 1985, Maureen went back to school and received her LPN degree from St. Cloud Technical College.
Like her father, Maureen was an accomplished pianist, able to play any melody by ear. She often played hymns and other favorites on their piano at home. She was active in community and church, as a part of Ladies' Aid at Elim Mission Church, Christian Women's Club, volunteering at the Cokato Museum, Cub Scouts, Girl Scouts, and hosting Campus Life meetings in their home for many years. Maureen exercised her gift of hospitality by graciously welcoming many into their home and serving them with her genuine caring spirit. She was a gifted seamstress – making clothes for her children, quilter, avid reader, and in recent years was quick to jump in and learn the game of Mahjong, making new friends whose lives she ultimately touched. Maureen loved the Lord and did not hesitate to share the love of Jesus to those she crossed paths with, even in the days when her disease found her in the hospital. No matter her own condition, she redirected the focus off of herself and on to others.
Those who knew Maureen well describe her as a sweet, soft-spoken, easy-going, gentle and humble woman with a servant heart who rarely complained, raised her voice, or even uttered a negative word.
Maureen traveled widely with her husband and wintered for over 20 years in their home in Peoria, Arizona. They both spent significant time in Romania in the 1990's with the Jesus Film Project.
Maureen is survived by her five children: Todd (Sarah) of Peoria, AZ, Kerry (Tom) Nelson of Cokato, Brent (Rebecca) of Annandale, Bethel (Mark) Vatsaas of Parker, Colorado and Sara (Dana) Beuning of Sauk Centre, 17 grandchildren, 10 great-grandchildren and three brothers, Mark Young of Tempe, AZ, and Bradley Young and Delmond Young, both of Cokato.
A Celebration of Life service for Maureen and her husband, Ralph, will be held Sunday, July 15th at 2:00 p.m. at Elim Mission Church, Cokato. Visitation will be at Swanson Peterson Funeral on Saturday, July 14th from 4:00-7:00 p.m. with sharing and a time of reflection at 6:30 p.m.