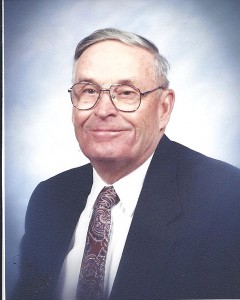 Willard Weller passed away at Haven Homes of Maple Plain on July 26, 2019.
Memorial Service: 1 PM Saturday, August 3, 2019 at Annandale United Methodist Church, 250 Oak Ave N, Annandale
Visitation; will begin at 11 AM at Church on Saturday
Interment; Sylvan Cemetery
Willard Eugene Weller, was born December 26, 1924 to Richard SR. and Luella (Townsend) Weller, at Delano, Minnesota. He joined the United States Army on November 10, 1945 served as a Military Policeman and was honorably discharged on January 10, 1947.
After service he purchased a farm near Howard Lake, Minnesota and Married Irene Warn in 1957. To this union 2 children; Gail and Scott were born.
Willard started working for Swartz Manufacturing of Lester Prairie in 1965 and in 1970 went to work at Van Dale-Fleming Manufacturing as a punch press operator he stayed for 25 ½ years.
After retirement Willard went to small engines school via mail. He worked at Carlson Orchard and Village Ranch as a dish washer in the kitchen. He was 88 years old when he totally retired.
Willard loved the out doors, he had a good sense of humor, and loved his family.
Willard passed away at Haven Homes of Maple Plain, Minnesota on July 26, 2019. He had reached the age of 94 years, and 7 months. He is survived by: children Gail (Doug) Bergstrom of Howard Lake. and Scott (Brenda) Weller of Clear Lake. Grand children: Nicolle (Andrew) Sawatzke of Buffalo their children Kayden and Addison. Travis (Shannon) Bergstrom of Howard Lake their children Wyatt and Ruby. Justin (Auden) Weller of Sauk Rapids, and Jeremy (Kylie) of Brooklyn Park. Brother Richard Weller Jr. of Howard Lake, and sister Varona Seth of Winsted.
Willard is preceded in death by: his parents Richard Sr. and Luella, wife Irene, Sisters Rosalee Boeson, and Hazel Oberpriller.