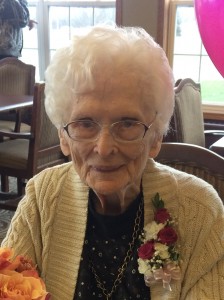 Mary Evelyn Swedberg, was born on November 15, 1918 in Harlan, Indiana to Henry and Edna (Ziemer) Ringenberg. She grew up on the family farm and graduated from High School. She went on to college and received a degree in Education . She later returned to college at St. Cloud State in Minnesota and received an additional BS degree.
She met Richard Swedberg from Blackduck, Minnesota. They were married on May 20, 1944 at Grabill Missionary Church in Indiana. To this union 3 daughters were born. Mary's life with Richard was spent in the states of South Dakota, Nebraska, Wisconsin and Minnesota where he was pastor in several Evangelical Free Churches.
As a pastors wife and mother, Mary spent her time raising the family and being very active in Richards ministry. She taught Sunday School classes and Vacation Bible School. She was also a 2nd grade at Dassel Elementary School for 16 years. She loved being a teacher and especially loved teaching children.
After Richards death in 1996, Mary married Gordon Swedberg. They were married at her daughters home in Cokato, MN. Gordon and Mary made their home in Wheatland, Wyoming. Following Gordon's death in 2005 Mary moved back to her home in Cokato.
Mary passed away at Brookridge Assisted Living in Cokato, MN on March 30, 2020. She had reached the age of 101 years, 4 months and 15 days. She is survived by daughter Marilyn (Mark) Peterson of Cokato. Grand Children: Darla Nyquist, Matthew Nyquist, Joshua Nyquist, Benjamin Nyquist, Anji Nyquist, Adam Walker, Aaron Walker, Rachel Seifert, Gregory Peterson and Brooke Nohner. Son-in-laws: Joel Nyquist, Robert Walker. Brothers: Ralph Ringenberg, Gerald Ringenberg and 22 great-grandchildren
She is preceded in death by her parents Henry and Edna Ringenberg, husbands: Richard Swedberg and Gordon Swedberg, daughters: Darlene Nyquist and Carol Walker.