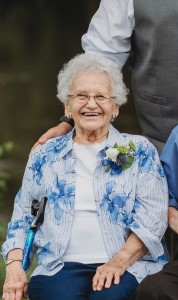 Irene Dorothy (Blanchette) Strey was born in Smith Lake, Minnesota to Charles Albert and Lorna Paula (Elfman) Blanchette, on August 23, 1931. She grew up in the Howard Lake area. After attending High School, she went to work as a nanny for the Dayton Family, and also at Cokato Green Giant Cannery where she met her husband of 66 years, Elroy Stanford Strey.
They settled on a dairy farm North of Cokato, raised their family of 1 son and 5 daughters, and farmed until their retirement. Irene enjoyed needle work, and playing games. She was a wonderful baker and a member of the Church of Christ in Dassel, Minnesota.
Irene passed away at Abbott Northwestern Hospital of Minneapolis on July 15, 2018. She had reached the age of 86 years, 10 months and 23 days.
Irene is preceded in death by: Her parents Charles and Lorna Blanchette, sisters Ida (Tony) Entinger, and Betty Blanchette, and son-in-law; Larry Melinsky.
Survivors include: Husband Elroy of Cokato, son Steve (Jan) Strey of Fair Haven, five daughters; Linda Melinsky of South Haven, Vickie (Jeff) Murphy of Osseo, Connie (Tim) Peterson of Cokato, Dawn (Kevin) Gode of Ottertail, and Pamela (Rahn) Ortquist of Cokato. Two granddaughters, Melissa (Scott) Berglund of Superior, Wisconsin, Cassondra (Derek) Wohlers of Clearwater. Grandsons: Michael (Erin) Strey of Kasota, Calen (Robin) Ortquist of Litchfield and Cade Ortquist of Cokato. Great grandson: Vander Strey, 3 nieces, 3 nephewss other relatives and friends.
Funeral Service: 11 AM, Friday, July 20. 2018 at The Dassel Church of Christ.
Visitation: 1 hr. prior to service at the church
Interment: Riverside Cemetery.