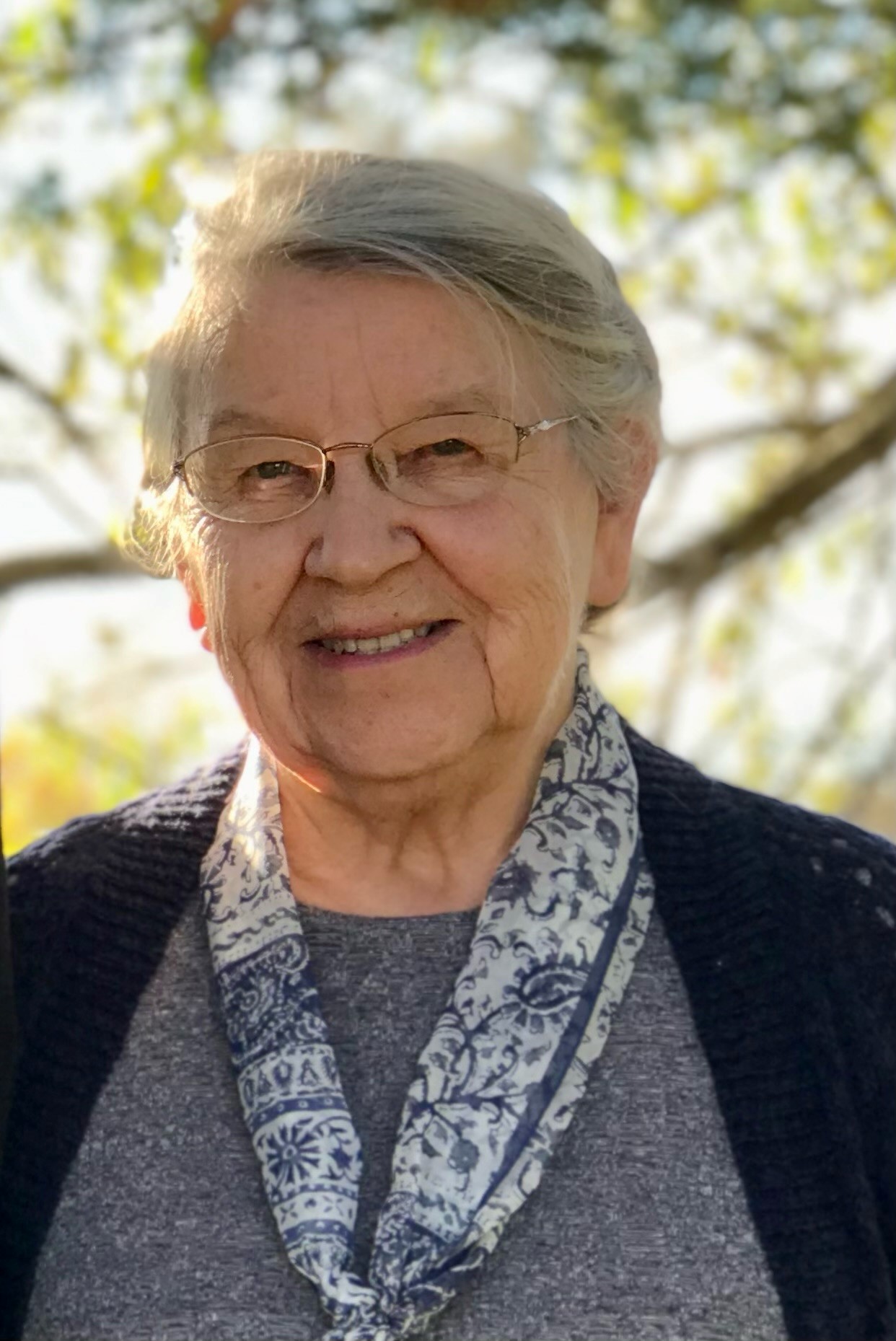 Mary Cecelia (Ruonavaara) Skoog, age 89, passed away on November 19, 2022 at Engel Haus Assisted Living in Albertville, Minnesota. Mary was born the fifth of seven children in Gay, Michigan on September 14,1933 to Anna and Felix Ruonavaara. After graduating from Calumet High School, she moved to Detroit, MI and worked for General Motors. Eventually, she found her way back to the Upper Peninsula and was "so glad" to have been living with her parents when her mother died at age 61. It was during that time that she attended Suomi College and earned a certificate in shorthand. She took her skills to Minneapolis and worked for Judge Miles Lord as a legal secretary in the late 1950s. When the Minneapolis bus workers went on strike, Roy Skoog, a bachelor she had met at church, began giving her a ride to work every morning. They fell in love and were married on July 9,1960 at her sister's home in the Bryn Mawr neighborhood of Minneapolis. They purchased a home in Brooklyn Center and started a family before moving to a small hobby farm in Maple Lake, Minnesota in the spring of 1972. Roy commuted to work in Minneapolis and worked "long days". Mary was a devoted and loving stay-at-home mother to their nine children who remember running home from the school bus to delectable smells wafting from the kitchen. She sewed Easter dresses for her daughters, made baby quilts and knitted sweaters for her grandchildren, and classic fashions for herself. Ever the wordsmith, she won countless games of scrabble, devoured the criptoquip and crossword puzzles in the newspaper.  Her dictionary was in tatters.  She studied God's word and reminded her children of the way of a believer. Attending services and fellowship of Gods children was her highest priority. The Gospel of forgiveness of sins was her treasure. In 1988, Mary and Roy sold the farm and moved to the edge of town in Cokato, Minnesota where a stream of church friends would "stop by" for coffee and a visit. During these precious years of retirement, Mary and Roy criss-crossed the country in their car visiting friends, relatives and loved ones, never staying in one place too long. Friends remember Mary as a chatterbox alongside her steadfast quiet husband. She never forgot the birthdays of her grandchildren. Keeping in touch was her specialty. Mary wrote long letters and spent countless hours catching up with friends and family on the telephone. Many loved ones will miss their daily conversations.
Mary is survived by her husband of 62 years, Roy Skoog, of Albertville, MN; nine children: Juliana (Gerald) Johnson (Skanee, MI), Janet (Karl) Niemela (Lake Stevens, WA), Thomas (Janet) Skoog (Otsego, MN, Dale (Laura) Skoog (Rogers, MN), Darlene (Tim) Sutinen (Phoenix, AZ), Andrew (Hanna) Skoog (Waverly, MN), Wayne (Susan) Skoog (Greenfield, MN), Annemarie (Steve) Jones (Longview, WA), and Jennifer Skoog (New York, NY); 65 grandchildren, 55 great-grandchildren; siblings Nathan (Mimi) Ruonavaara and Luella (Robert) Grangroth; Brother-in-law George Wisuri, Sister-in-law Gladys (Ruonavaara) Lahti, nieces, nephews, cousins and friends. She is preceded in death by her parents, Felix and Anna Ruonavaara, siblings Helen (Dan) Karineimi, Julia Holman, Anna (Izzi) Wisuri, Quentin Ruonavaara, grandchildren, Brady Alan Niemela and Ashley Rose Johnson.
Visitation to be held at 10:30 am at Rockford Laestadian Lutheran Church on Saturday, November 26, followed by the funeral at noon.  Burial will be at 2:30 pm at the Finnish Cemetery in Cokato, Minnesota.
Arrangements by Swanson-Peterson Funeral Home of Cokato, MN 320-286-2534, www.swansonpeterson.com