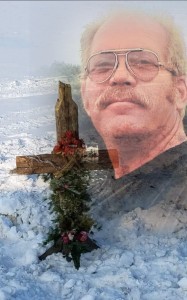 Wesley James Sigman was born on October 4, 1957 at the Cokato Hospital to Loren and Gertrude (Dake) Sigman. He grew up in Howard Lake and attended School there. He joined the United States Marine Corps and entered service on November 29, 1974. He was honorably discharged on October 31, 1980.
Following military service, Wesley worked in construction building silos. He went to school for law enforcement and worked for Superior Wisconsin Police Department and did security work at casinos and hospitals. Later he worked for a cable company installing cable for internet and telephone.
On August 5, 1989, Wesley married Joanne Marie Ford. The couple made their home first in Superior, Wisconsin, and later Fair Haven, Minnesota. In 2012, Wesley went to school to learn heavy crane operation and most recently worked in that capacity at Astech corporation of St. Joseph, Minnesota He enjoyed computers, fishing, and metal detecting.
Wesley passed away unexpectedly on February 19, 2021. He had reached the age of 63 years, 4 months and 15 days. He is survived by his mother, "Gert" Pettit of Howard Lake; wife; Joanne of Fair Haven; children Danny (Crissy) of Paynesville, Ryan (Kim) Zeppelin of Hutchinson, Jessie (Clint) Kidman of Plymouth, Utah, Kory (Mel) Conway of Newfolden, and Jaryl Sigman of Colorado Springs, Colorado; 17 grandchildren, including Alexis at home with Wesley and Joanne; and siblings Ardis, Genelle, Marvin, Melanie, Lisa, Jim, and Peggy.
He was preceded in death by his sisters Stacy and Linda, and brother Dennis.
There will be a public Visitation from 4-7 PM Saturday, February 27, 2021 at St. Johns Lutheran Church of Howard Lake.
In Lieu of flowers donations are preferred to St. Judes.