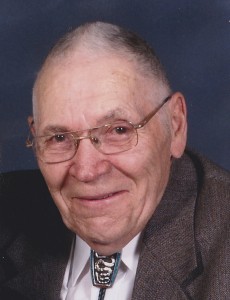 Ronald Henry Selden was born on May 30, 1924, at Harmony, Minnesota to John and Ruth (Helgeson) Selden. He grew up on a farm in Canton, Minnesota. Ronald graduated at Canton High School in 1942. After School, he farmed with his parents and drove truck for a time. He later went to work at St. Paul Rental becoming service Manager there.
On June 18, 1946 Ronald married Marjorie Lenton in Spring Valley, Minnesota. They made their home in Canton and Spring Valley first and later in Bloomington, then Roseville. After retirement, they spent summers on Big Sandy Lake and winters in Apache Junction. In 2012 they moved to Litchfield and to Brookridge in Cokato in 2014.
Ronald enjoyed fishing, hunting and camping. He was a very active member of the Lions most recently in Litchfield, Most of all he enjoyed spending time with family.
Ronald passed away at Cokato Manor on March 9, 2017. He had reached the age of 92 years, 9 months and 9 days. Survivors include his children: Becky Ramstad of Dassel, Robert (Carol) Selden of Roseville, Sue Selden of Granite Falls, and Dave Selden of Santa Barbara. Grand children: Sheri (Conrad) Frisch, Erick (Sue) Frisch, Elizabeth Jones, Sarah (Jess) Utter, Bradley Ramstad, Megan Selden, Jenny Selden. 13 great grandchildren, 2 great great grandchildren. Brother Henry (Rita) Selden.
Ronald was preceded in death by his parents John and Ruth Selden, wife Marjorie, 1 brother and 1 great great grandson.
Memorial service: 11 AM Saturday, March 25, Zion Lutheran Church, Litchfield, MN.
Visitation: 1hr prior to service