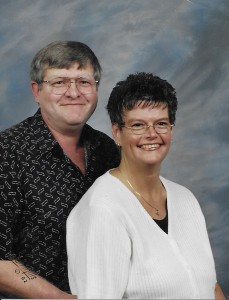 LeRoy Gerald Schauer, age 64, of Howard Lake, Minnesota went to join his Heavenly Father on Saturday, August 15, 2020.
On September 9, 1955, Corinne and Gerald were blessed with the birth of LeRoy in the city of Arlington, Minnesota. LeRoy attended Zion Lutheran Parochial School through sixth grade; seventh and eighth grade at Green Isle School and then attended Arlington Green Isle High School and graduated in 1973. There he excelled in shop and was involved in FFA. He married his beautiful bride, Karen Denise Donahue on October 2, 1993 at St. John's Lutheran Church in Howard Lake. Together they made their home in Howard Lake. Karen and LeRoy are members of St. John's Lutheran Church. LeRoy was currently employed at The Bernard Group in Chanhassen, Minnesota.
LeRoy enjoyed making cabinets, wood working, bear hunting, deer hunting, as well as fishing. He was phenomenal at fixing things, taking anything apart and putting it back together. If anyone came to LeRoy for advice on how to fix something, he would always say, "Ok here's what you gotta do." He loved collecting tractors and antique engines. LeRoy and Karen enjoyed traveling together to NASCAR races, county fairs, tractor auctions and shows. Most recently they went camping in their Ice Castle fish house in Huron, South Dakota. They also enjoyed spending time together at their second home in Pine River, Minnesota.
Although LeRoy and Karen did not have any children of their own, LeRoy loved his six nieces and four nephews as his own. LeRoy and his furry companion, Kiba, enjoyed playing tug or war, wrestling and hanging out in the shop.
LeRoy is survived by his wife, Karen and furry companion, Kiba. Brothers; John (Rhonda) Schauer of Green Isle, MN and Peter Schauer of Hutchinson, MN. Sisters; Sharon (Jon) Roeschlein of Wheaton, MN, Sue (Ron) Schrupp of Lester Prairie, MN, and Sally Moddes of Hutchinson, MN. Sister in law; Sheila (Rick) Holtgrave of Richfield, MN.
LeRoy is preceded in death by his parents, Corinne and Gerald, nephew Dustin Michaels and grandparents.
The funeral will take place Sunday, Aug. 23, 2020, at 2 p.m. at St. John's Lutheran Church in Howard Lake. Visitation will take place one hour prior to the service. Funeral arrangements are being handled by Swanson-Peterson Funeral Home in Howard Lake.