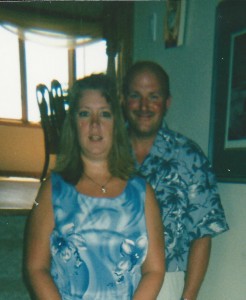 Rygwall, Jill Marie 48 of Princeton, MN. Passed away with her husband Chad in airplane accident that occurred on 10/13/2017. Visitation: 2-5 PM Saturday 10/21/2017 at Good Shepherd Free Lutheran Church, 5939 Oliver Ave. SW. Cokato, MN. Survivors include, son Andrew, parents; John and Maxiene Rokala of Dassel. Swanson-Peterson Funeral Home of Cokato 320-286-2534
Donations for Jill's son Andrews future education can be made by going to Go Fund Me. com/ donate on line then Andrew Rygwall
Jill Marie Rygwall was born in Litchfield, Minnesota to John and Maxine (Klammer) Rokala on May 12, 2017. She grew up in the Dassel/Kingston area, and graduated from Dassel Cokato High school in 1987. She went on to Gustavus Adolphus College in St. Peter, Minnesota and graduated in 1991 with a degree in Criminal Justice. After College she took a job at the U.S. Marshalls office in Minneapolis, and later worked at the Princeton School District as a special Ed para.
Jill and Chad were married at North Crow River Lutheran Church on May 7, 1994. Reverend Jeffrey Blank officiated at the ceremony. To this union a son; Andrew Chadley Rygwall was born. They made their home in Fridley first then Blaine and finally Princeton.
They were truly outdoors people that did everything together; snowmobiling, fishing, deer hunting, flying, pontooning and boating, spending time at cabins, animal lovers, bonfires, Viking fans. Jill liked to read, Chad was a swimmer and pilot with his own plane and hangar.
Chad and Jill passed away together in a plane crash over the Mississippi River on a beautiful fall day near Ramsey, Minnesota, on October 13, 2017.
Surviving Jill is their son Andrew Chadley Rygwall. Parents John and Maxine (Klammer) Rokala. Brother, Mark (Julie) Rokala their children Henry and Lilly. And Brother, Michael Rokala. Sister, Jodi (Aladdin) Rokala Ghazi, their children Danyah, Kenan, Maya, Kassim, Lea.
Jill is preceded in death by: grandparents, Levi and Ina (Hasti) Rokala, and Ernest and Elvira (Hendrickson) Klammer.