Paul Raisanen passed away at his home in Cokato on Sunday, January 28, 2018, surrounded by family members.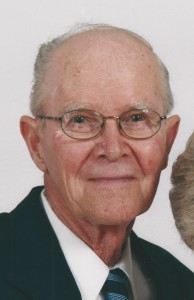 Funeral Service: 11 AM Wednesday, January 31, 2018 at Cokato Laestadian Church at 16144 20th Street SW, Cokato
Visitation: 5-8PM Tuesday, January 30, at the church and 1hr. prior to services on Wednesday.
Interment: Cokato Finnish Cemetery.
K. Paul Raisanen was born July 15, 1925 in Cokato Township, the son of Nels and Mary (Juusola) Raisanen. Paul grew up on their family farm in West Albion.
Paul graduated from Annandale High School in 1943. He was drafted into the U.S. Army in 1950 and served as a radio repair man during the Korean War.
Paul was united in marriage to Millie Halonen on September 15, 1953. They farmed in West Albion until they moved to Pioneer Lane Farm North of Cokato in 1957. There they dairy farmed until their retirement in 1990, after which they moved into town.
Paul passed away at his home in Cokato on Sunday, January 28, 2018. He had reached the age of 92 years, 6 months and 15 days.
Survivors include his children: Randall (Sheryle) of Scottsdale, AZ, Joan Kotila of Cokato, Mary (George) Koivukangas of Cokato, Gordon (Ruth) of Cokato, Kenneth (Pearl) of Greenfield, Bruce (Patricia) of Cokato, Carolyn Mattila of Cokato, Heidi (Lawrence) Torola of Cokato, Warren (Brita) of Peoria, AZ. Susan of Scottsdale, AZ.
Dwight of Annandale, Laura (Evan) Bekkala of Cokato, Gretchen (Mark) Plough of Snohomish, WA. Kirsti (Nicholas) Lang of Lake Stevens, WA. and Philip of New Hope. Many grandchildren, great-grandchildren and two great great-grandchildren. He is further survived by sisters and brothers-in-law; Dorothy Raisanen, George Kivisto, Gladys Kariniemi, Sylvia (Walter) Muhonen, Fred (Thelma) Halonen, Lorraine Hillukka, Virginia (Ernest) Lehtola, Connie Halonen, Raymond (Betty) Halonen, LillianYlitalo, Donald (Florence) Halonen, Martha Halonen, and Gerald Anderson.
Paul is preceded in death by his wife, Mildred (in 2013), parents, sons-in law: Mervin Mattila and Mark Kotila, 2 grandchildren and 2 great grandchildren, sisters, Martha (Robert) Cress and MaryAnn Kivisto, brother, Niilo, brothers and sisters-in-law: Carl (Eunice) Halonen, Judith Mattila, Paul Kariniemi, Paul Halonen, Edward Halonen, Paul Ylitalo, Douglas Halonen, and Sharen Anderson.