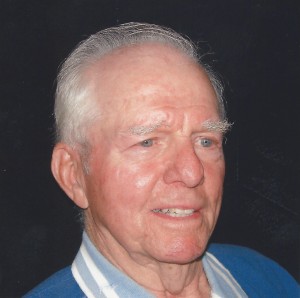 Clayton Mattson 87 of Howard Lake, passed away at Howard Lake Good Samaritan Center on Saturday, October 18, 2014.
Memorial Service: 2:00 PM Saturday, October 25, 2014 at St. Johns Lutheran Church of Howard lake
Visitation: 4-7 PM Friday, at Swanson-Peterson Funeral Home and Cremation Service of Howard Lake and 1 hr prior to service on Saturday at church.
Clayton Marvin Mattson was born on September 20, 1927 in Waverly, Minnesota to Clinton and Alice (Bakeberg) Mattson. He grew up on a farm North of Waverly, and was baptized and confirmed at the Swedesburg Lutheran Church in Marysville Township. In 1945 Clayton graduated from Buffalo High School.
On October 21, 1950 Clayton married Muriel Birkholz at St. James Lutheran Church of Howard Lake. The couple lived in Buffalo first and in 1954 bought the farm North of Howard Lake. Clayton farmed and in 1958 started the well drilling business. In 1968 they built Mattson Well at their present location. Clayton retired about 10 years ago.
He enjoyed wood working, golf, hunting and fishing, and enjoyed socializing a the Howard Lake Legion. Most important to Clayton was his family.
Clayton passed away at the Howard Lake Good Samaritan Center on Saturday, October 18, 2014. He had reached the age of 87 years and 28 days.
Survivors include: his wife Muriel of Howard Lake, children: Nola (Loyal) Staskivige of Loretto, Deborah Herbst of Delano, Kurt Mattson of Howard Lake and Kent Mattson of Howard Lake. Grand children: Forrest Mattson, Nathan Mattson, Jason Herbst, Amber Gruba Mattson, Stephanie Schuman, David Nettleton. Great grandchildren: Dylan, Kasja, Alexa, Kane, Skylor, Devin, Brandon, and Ethan. Brothers: Richard and David and sister Wanda Gilmer. Clayton was preceded in death by his parents and son John.