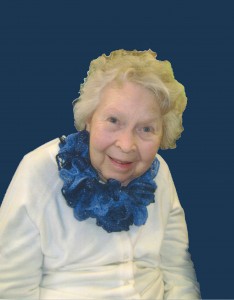 June Borg passed away at Dassel Lakeside nursing home on March 31, 2016.
Funeral Service: 11 AM Thursday, April 7, 2016 at Elim Mission Church, Cokato, Minnesota
Visitation: 5-8 PM Wednesday, April 6 at Swanson-Peterson Funeral Home of Cokato and 1 hr prior to service at church on Thursday
Interment: Good Shepard Lutheran Cemetery.
Betty June Arlene (Carlson) Borg was born on January 22, 1929, in Spicer, Minnesota. She attended Darwin Elementary, Collinwood Lake, and Dassel High School, graduating in 1947.
For two summers during high school years, she worked at Northwestern Hospital in Minneapolis and was a bank currier, where her job was to deliver money to different banks in the city. She rode street cars to make the deliveries. After graduating from high school, she worked at General Mills in Minneapolis. She worked for Haapala Seed Corn Company the year before she was married.
June married Delmond Borg on September 10th, 1949. To this union three children were born: David, Dwayne, and Susan.
June was a homemaker. She enjoyed cooking and baking. She was noted for her caramel rolls, oatmeal and coffee breads that were enjoyed by family and friends. She loved her vegetable and flower gardens, especially her roses, of which she enjoyed making arrangements for friends.
June was a member of Elim Mission Church. She served as a Sunday School and VBS teacher, Dorcas Society, Ladies Aid, women's prayer groups, and on church boards.
June was called home to her Lord and Savior on March 31, 2016 at Lakeside Health Care Center of Dassel, surrounded by family members at her bedside.
June is survived by her husband, Delmond, sons David (Sharon), Dwayne (Julie), and daughter Susan (Kevin) Anderson, sister Lois Engel, sister- in-law Ethelyn Carlson, 12 grandchildren, 20 great- grandchildren, nieces, nephews, and many friends.
She was preceded in death by her parents, Albin and Ruth Carlson; sister Lorraine Carlson, brother Donald and sister-in -law Lorraine Carlson, brother Robert Carlson, sister Marilyn and brother-in-law Donald Fredrickson, brother-in-law Jerome Engel, great-granddaughters Emilee Rose Borg and AnnaLeah Hope Borg.