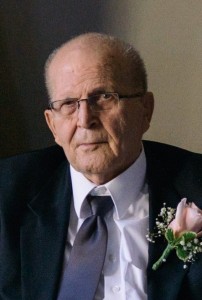 Paul Hendrick Nevala of Cokato, passed away at Cokato Manor on June 14, 2019
Funeral Service: 11 Am Thursday, June 20, 2019 at Cokato Laestadian Lutheran Church.
Visitation: 4-8 PM Wednesday, at the Church
Prayer Service: 7 PM Wednesday at Church
Interment: Cokato Finnish Cemetery
Paul Hendrick Edward Nevala was born on April 15, 1930 to Leonard and Hinni Nevala at the home of his grandparents William and Matilda Alajoki in Blueberry Twp, Wadena County, Minnesota. He was the third of nine children. Paul spent his early adult years helping on the family farm until entering the US Army at the age of 26. He was a PFC (Private First Class) with a specialty of AAA (Anti-Aircraft Artillery) Gun Crewman and received a good conduct medal.
Paul married Martha Erickson in November of 1959, and they made their first home in Minneapolis. Paul and Martha were blessed with 12 children. While living in Minneapolis and later in Maple Grove, he worked as a shipping and receiving foreman for Northrup King Seeds. Paul was called to serve as a minister in the Minneapolis congregation in 1977. When he was laid off from Northrup King Seeds in 1984, he accepted a call from the Cokato congregation to be their full time pastor, and moved his family to Stockholm, MN. During many of those years, he also worked at the Laestadian Lutheran Church office in Plymouth. In the early 90's, when his wife Martha became ill, he faithfully cared for her until her death in 1995. A year after Martha's death, he was remarried to Clara Kemppainen. He then spent his years of retirement in Brainerd and Cokato. Paul and Clara spent time traveling, visiting children and grandchildren.
Paul developed multiple hobbies and skills throughout his life. He was an avid deer hunter who fondly remembered the fellowship of hunting together with his family and friends. He had many stories of hunts with his father, his brother Peter, and cousins Elmer and Reuben Alajoki and their father Henry. He was an expert marksman who kept his family stocked with venison, and prepared delicious meals with the meat. Along with hunting, Paul enjoyed fishing and woodworking. He also enjoyed music and in his younger years, he sang at several occasions at the request of friends.
Paul is remembered by many congregation members as a soft-spoken servant of the Word with a good sense of humor. He joined in their family celebrations, serving them at baptisms, weddings and funerals. He is remembered by his children as a caring father who often waited at the kitchen table until they returned home, sometimes late into the night. He lived a life of moderation with simple needs, trusting that God would provide for each day. To the end, his most fervent wish was to remain a child of God and to make it to heaven.
Paul is survived by his wife Clara, by his children: David (Tarja) of Spokane, WA; Dorothy of Cokato, MN; Lauri (Denise) of Monticello, MN; Thomas of Cokato, MN; Judith Siltala (Wade) of Cokato, MN; Lisa Kinnunen (Tommi) of Cokato, MN; Richard (Kathryn) of Buffalo, MN; Erick (Cindy) of Big Lake, MN; Matthew (Anna-Mari) of Kiiminki, Finland; Jonathan (Michelle) of Sebeka, MN; James (Marjo) of Kemi, Finland; 44 grandchildren and 9 great grandchildren; sisters Thelma Lehto (Reino) of Clatskanie, OR; Miriam Nevala of Sebeka, MN; Maria Jarvi (Ray) of Sebeka, MN; Edna Skoog (Harvey) of Prescott Valley, AZ. sister-in-law Evelyn Nevala of Menahga, MN. Paul was preceded in death by his parents (Leonard and Hinni); his brother (Peter); three sisters (Naemi, Hinni and Nora); his first wife (Martha); son (Alan); grandchild (Kate Nevala); and great grandchild (Ellie Kinnunen).