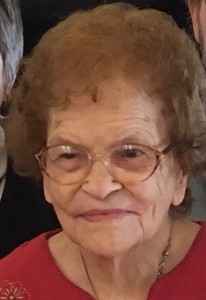 Maryon Dagmar Albertina McCalla, 105, died peacefully on November 9, 2017 in Dassel, Minnesota. She was the third child born to Swedish immigrants, Charles and Ellen (Sundquist) Osbeck, on January 27, 1912. Maryon was confirmed at the Evangelical Lutheran Church of Cokato in 1925, and graduated from Cokato High School in 1930. On June 29, 1930 she married Orrin McCalla in Montrose and settled on the family farm in Middleville Twp. In 1948 the couple moved to Howard Lake and later to Minneapolis where Maryon worked at Tonka Toys, Donaldson's and Rembrandt Enterprises.
After Retirement in 1978, the McCalla's settled in Dassel, Shortly after Orrin died in 1992, Maryon moved to Lakeside Apartments, where she lived until her passing. Maryon was a lover of poetry, an artist, and a writer who created many keepsakes for her large and extended family, including, an annual personalized Easter Story using her family as characters in the story. Our matriarch will be truly missed and remain in our hearts.
Maryon is preceded in death by her parents, husband and siblings: Esther, Carl, Edith, Bill, Ann, Donald, Lucille, Russell, Clifford and daughter-in- law Ann (Borchardt). She is survived by her brother Roger (Violet) Osbeck of Golden Valley, her 4 children: Dolores of New Brighton, Charles (Vonnie) of Livingston, MT, Roger (Sylvia) of Billings,MT and Howard (Janet) of Mesa, AZ. 9 grandchildren, 19 great grandchildren, and 21 great great grandchildren.
Funeral Service: 11 AM Friday, 11/17/2017 at Evangelical Lutheran Church of Cokato, followed by lunch at the church.
Visitation: 5-7 PM Thursday 11/16/2017 at Swanson-Peterson Funeral Home of Cokato and 1hr prior to funeral service at church on Friday.
Interment: Howard Lake Cemetery
Memorials preferred to Cokato Evangelical Lutheran church and Ecumen Home Care & Hospice- Litchfield.