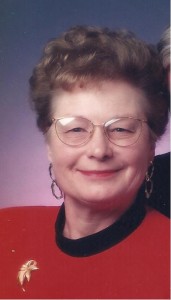 Holm, Jeanette Mary
age 78, of Cokato, passed away on March 12, 2019. She was born on March 28, 1940 in Redwood Falls, MN where her father was working on road construction. Her parents Keith and Margaret Hafften however soon settled on a farm in Buffalo, MN. Jeanette graduated from Buffalo High School in 1958 and worked in the Oakley National "round" Bank in Buffalo until 1963.
On November 18, 1961 she married Donald Holm of Cokato and became a farm wife. (The straw bales in the back seat of the honeymoon car were foretelling.). She was a member of Evangelical Lutheran Church for over 40 years and the American Legion Auxiliary for over 30 years.
When asked late in life about her life accomplishments Jeanette quickly responded "I had a good husband, and I raised four children". She was devoted mother who took time to help each of her children get a good start on life.
Jeanette's 1958 Buffalo High School Yearbook described her with two words: "sweet personality". Those who knew her know this is true. Jeanette touched many during her life, all of whom are better for knowing her.
She is survived by her children, Mark (Susie), Bradley (Beth), Julie (John Newstrom) and Karen (Lance Vargason), and grandchildren, Cassidy (Kyle Johnson) and Derek (Ashley) Holm, Samantha and Jack Newstrom, and Taylor and Carli Vargason, brother Ken Hafften (Eileen), niece Emily (Paul Reilly) and nephew Nick. Happily she is most recently descended by great granddaughter Lucy Johnson (born 3.14.19).
Jeanette was preceded in death by her husband Donald and parents.
A memorial service will be held at 11 AM on Friday, March 22, 2019 at the Evangelical Lutheran Church in Cokato. Visitation will be 1 hour prior to the service at church as well as 4-7 PM on Thursday, March 21, 2019 at Swanson-Peterson Funeral Home & Cremation Services in Cokato, 320-286-2534, www.swansonpeterson.com