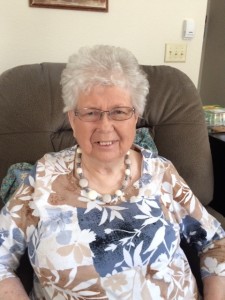 V. Adeline Hokkanen age 88, longtime resident of Annandale, MN passed away on Tuesday, February 26, 2019 at Annandale Care Center.
Funeral Services will be held 11:00 am Saturday, March 9, at Good Shepherd Free Lutheran Church, Cokato, MN with Pastor Rob Edward officiating. Burial will follow at Riverside Cemetery of French Lake Township. Visitation will be from 4-7 p.m. Friday, March 8, at Good Shepherd Free Lutheran Church, Cokato, MN and one hour prior to the service on Saturday.
Adeline is survived by her children, Darlene Zylstra of Maple Lake, Patty (Steve) Hohag of St. Michael, and Ken (Bev) Hokkanen of Poinciana FL; sister Jean Neuhardt; grandchildren Kelley (Erik) Johnson, Joe (Jody) Zylstra, Alison (Ben) Menk, Ryan (Lisa) Zylstra, Ben (Laurie) Hokkanen, and Sara (Mike Soley) Hokkanen; twelve great-grandchildren; and many relatives and friends.
Adeline was preceded in death by her parents, Leonard R. and Edla E. Lappi; husband Howard; brother Robert; son-in-law David Zylstra; and granddaughter Ashley Zylstra.
Adeline, the daughter of Leonard and Edla Lappi was born on their farm in French Lake Township on December 26, 1930. She attended French Lake country school and Annandale High School, graduating in 1948. On April 23, 1949 she was united in marriage to Howard Hokkanen at the Apostolic Church Parsonage in Cokato. They lived and worked on the Hokkanen family farm near West Albion. In 1977 they built a new home on the farm and enjoyed living there for 36 years. Adeline was a housewife and helped on the farm. In 1962 they stopped dairy farming and continued to crop farm. Also in 1962 Howard started working for the Agriculture and Stabilization and Conservation (A.S.C.) as a Federal Crop Insurance Agent for Wright, Hennepin and Carver counties and Adeline was his business associate. In 1973 when Howard became the Manager for the Cokato Mutual Fire Insurance Company, Adeline continued to work as his business associate for 23 years.
Adeline enjoyed cooking and baking for family and friends and hosted many people who dropped in to visit