Gladys Doering of Howard Lake, passed away at the Good Samaritan Nursing Home of Howard Lake on October 2, 2017.
Funeral Service: 1 PM Friday, October 6, 2017 at St. James Lutheran Church of Howard Lake.
Visitation: begins at church at 11 AM on Friday.
Interment: Woodland Township Cemetery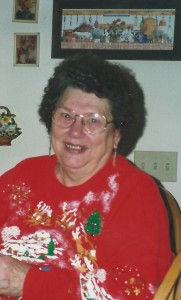 Gladys Florence Doering was born March 31, 1927 to Henry and Hilda Greenhagen at Howard Lake, Minnesota. A lifelong member of St. James Lutheran Church she was baptized and confirmed there. In May of 1947, Gladys was married to Stanley Anderson. They had one daughter, Barb and resided on the Anderson family farm in Cokato until his passing.
In May of 1953, Gladys married Irving Doering. They resided on the Doering family farm in Woodland Township and had two sons, Wayne and Dale. They moved to their home on Howard Lake in 1966.
Gladys was a loving wife, mother, grandmother, great-grandmother and homemaker. She worked many years at Tonka Toys in Mound and after retiring, worked part-time at Astro Mailers in Howard Lake.
When going on trips she enjoyed spending her nickels and pennies on gambling games. But most of all Gladys loved taking care of her grandchildren and great-grandchildren, making them cheese macaroni and wieners for supper and CoCo Wheats for breakfast. Gladys enjoyed her free time sitting in her chair, listening to music, reading books, and playing solitaire.
It was on Monday, October 2, 2017, that Gladys passed away peacefully in her sleep at the Howard Lake Good Samaritan Nursing Home having reached the age of 90.
She was preceded in death by her husbands, Stanley Anderson and Irving Doering; parents, Henry and Hilda Greenhagen; brothers, Arnie, Alfred, Vern, Willie, Dwayne, and Rollie Greenhagen; sister, Dorothy (Greenhagen) Schostag; and granddaughter, Shannon Lorence.
Gladys is survived by her children, Barb (Dan) Lorence of Demming, New Mexico, Wayne (Mary) Doering of Cokato, and Dale (Jill) Doering of Waverly; sisters, Elaine Nelson and Vernice Bersie; grandchildren, Eric (Naomi) Lorence, Jessie (Joe) Keating, Sarah (Junior) Geislinger, Josh Doering, Joe Doering, Patsy Doering, and Frank Doering; twenty great- grandchildren; many nieces, nephews, and friends. Gladys will be greatly missed, but was ready to go Home.