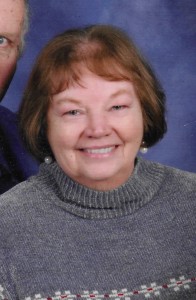 Barbara Jean Dahlin of Howard Lake, Passed away on July 9, 2020 at Waconia Ridgeview Hospital.
Funeral Service: 11 AM Wednesday, July 15, 2020 at St. James Lutheran Church of Howard Lake
Visitation: 4-8 PM Tuesday, at Swanson-Peterson Funeral Home of Howard Lake, and 1hr prior to service at Church on Wednesday.
Interment: St. James Cemetery.
Barb's life started in Minneapolis, MN, March 5, 1951. She attended and graduated from North High School, class of 1969. In 1967 she met her best friend and loving husband, Bruce and they married October 3, 1970.
In 1978 Barb and Bruce moved to Waverly, MN for a short while welcoming their first child Shannon Marie and moving to Howard Lake shortly thereafter. In 1980 they welcomed their son, Bruce Scott.
Barb and Bruce together spent their days nourishing loving and instilling values in their home and children. Barb welcomed and thrived on long conversations over coffee with friends. She never missed a sporting event and was a true Laker Fan! She spent countless hours reading and watching wrestling. She enjoyed the calmness and comforting sounds of watching the birds and squirrels (dang buggers) while tending to her flowers, the garden, the tomato plants and the cherry tree.
Barb was blessed with 1 granddaughter, Kylie and 3 grandsons, Jacob, Parker and Braxton. She shared her love of reading with her grandchildren and days of watching wrestling. Barb loved people. Barb worked in the kitchen for HLWW school district for over 20 years. Barb was known as mom by many. After retirement, Barb spent her time caring for her grandchildren and eventually Bruce joined her in retirement. Barb never sat still throughout the years. She took many bus trips with friends and never passed up the opportunity for an afternoon of Bingo! Barb could be found each morning holding up the AM work rush at local gas stations for her scratch off's and what a lucky hand she had…she'd also grab a coffee too!
Barb loved lie, laughter family and friends. We will miss her tremendously and cherish the energy and memories we all have received as a gift from her.
Barb is survived by her loving husband of 49 years, Bruce. Daughter Shannon Johnson and son Bruce. Grandchildren, Jacob and Parker, Kylie and Braxton. Her brother Larry (Diane) Merchant, brother-in-law Allen Jenner and a host of nieces, nephews and god children.