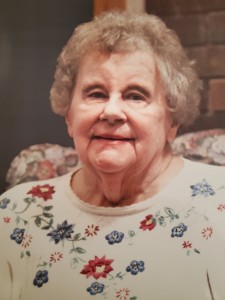 Ainie Marie (Hillstrom) Busse, 93, died peacefully on August 29, 2021 in Cokato, Minnesota. She was a loving wife, mother, grandmother, and great-grandmother, and "Meemaw" will be dearly missed by her family, relatives, and friends.
Ainie was preceded in death by her husband of 54 years, Norman, and survived by her children John Busse (Kathy) of Candler, NC; Linda Busse of Spokane, WA; Marion Heidi Nelson (Gregg) of Maple Grove, MN; Nancy Busse of Robbinsdale, MN; as well as grandchildren Owen Busse (Kristina) of Candler, NC; Sarah Nelson of Indianapolis, IN; Amy Nelson of St. Louis Park, MN; and great-granddaughters Penelope and Olivia.
Ainie was born on April 1, 1926, in Chicago, IL, the oldest of 9 children of Hugo and Lempi Hillstrom. She was certainly not an "April Fool," but it made for many family jokes over the years. She graduated from Deephaven, MN high school in 1945 and studied Journalism at the University of MN, but never finished her degree. She married Norman Busse on May 12, 1948 and they lived and farmed in Prior Lake for many years before making Cokato their home in 1970.
In 1973, Ainie and Norm started Busse Gardens and Ainie brought her business mind to establishing a successful garden center and later creating a mail-order perennial business. She was one of the founders of the Perennial Plant Association, a trade organization for perennial growers in the US and Canada. She sat on the Board of Directors for several state and national plant societies, was an active lecturer, and a certified judge for the Minnesota Horticulture Society, the American Hosta Society, the American Daylily Society, and many other organizations.
After retiring from Busse Gardens in 1999, Ainie turned her extra time to exploring her family genealogy and Finnish history. She was active in the Cokato Finnish-American Historical Society and the Finnish Genealogy Group of Minnesota, attended many FinnFest celebrations, and traveled to Finland to see "the old country" and meet relatives.
Ainie was a woman of strong faith and her trust in God helped her through many difficult times. Her keen mind, depth of knowledge, and loving heart will be missed by all. A memorial service to celebrate Ainie's life will be held at the First Baptist Church of Cokato on Saturday, October 16 at 1pm. In lieu of flowers and in appreciation of the exceptional care given by the Cokato Manor staff, please consider a memorial tribute to the Cokato Charitable Trust Furniture Fund (Cokato Manor, 182 Sunset Ave N, Cokato MN 55321).