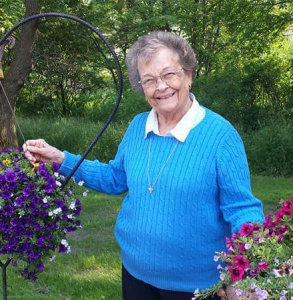 Adele Harriet (Hill) Breault of Howard Lake passed away Aug 2, 2019 after a burst of defiant orneriness that had been hidden for 88 years, 1 month and 25 days. Her gentle soul was born to this earth on June 8th 1931 to Murl E and Sylvia (Hubbard) Hill in Harvey, Illinois. Her father's job brought them to Sioux Falls, SD and then to Minneapolis where she thrived in spite of her petite stature. She was a tomboy at heart, loving the out doors and all sports. Her "skinny legs" would take her climbing trees, rounding baseball diamonds and perfecting figure eights on the ice rink. Adele loved to fish with her father, her hero, for panfish. Her favorite lake was Lac Courte Orielles (Lake Couderay) in Wisconsin. She would speak often of her love for their fishing outings but never wanting to eat their catch. ISH!
Adele walked everywhere as a child and young adult. There was no reason to obtain a driver's license. That would come much much later. Walking around her Lake Harriet neighborhood was always a pleasure to her. Lake of the Isles and Lake Calhoun were always part of her routes as well. The news of the Lake Calhoun name change was met with a furrowed brow and a flat tire sound (pfftt) from Adele. "That was unnecessary but whatever they want to do" was her answer to that. Always diplomatic and understanding.
Adele was baptized in her faith at Joyce Methodist Church (now the Uptown Methodist Church) in Minneapolis at age 15. Although she did not stay in the Methodist Church, her faith followed her. She was patient, kind, generous, forgiving, humble, understanding and encouraging, The living example of 1st Corinthians 13:1.
Adele graduated from West High School in Minneapolis in 1950. Her exemplary work ethic started early with employment at 5th Northwestern Bank in Minneapolis during her Senior year. She continued working in the banking industry after joining her love in San Diego, Ca while he was stationed there in the Navy. Adele married DuWayne Breault at St. Rita's Catholic Church in San Diego on April 30th 1955. They made their home in Lemon Grove during his service and moved back to Minneapolis after his honorable discharge.
They continued to love, travel and work together for 53 years. Star Bowling and Golf was the result of their love of those sports. Their hobbies became their livelihood affording them the ability to be their own bosses, enjoy their 40 acres of beauty in Howard Lake and "wintering" for 20 years in their beloved San Diego.
Adele loved to garden. She and DuWayne had a HUGE garden for many years. She loved coffee and conversation, cribbage and rummy, bowling and golf…especially golf! She loved a good BLT and enjoyed Peanut M & M's like no other. She loved dogs and had zero time for cats. The poodle pups, Buck and Josie, were stuck to her like glue after DuWayne passed away. They were very special to her and she doted on them. They listened to only Adele.
Adele never met a stranger. She opened her arms, heart and home to all. She housed strays, fed the hungry, gave up her chair for the weary, lent an ear to the distressed, provided a shoulder to cry on, was an enduring and trusting sidekick for her adventurous husband and despised swearing! Yet, every once in a while, when you least expected it-she would crack a joke, provide a profound anecdote, tease you with a wink and a smile and occasionally slip in a profanity. When THAT happened, you sat up and paid attention!
Adele was also quite the artist. She painted several pieces when she was younger but put that aside to work with Dude and raise her children. She again picked up the paint brush while enjoying her time with her friends at Cokato Manor Senior Day Care. Her latest 5 paintings will be treasured by her grandchildren.
Adele is survived by two daughters; Kim Barth of Buffalo and her children, Marie Peterson of Howard Lake and Jeremy Peterson and Wife Michelle of Howard Lake. Kathy Breault of Howard Lake and her children Cody Barth and wife Beth of Cokato, Patrick Barth, Taylor Barth and bonus grandson Brennan Barth all of Howard Lake. She is further survived by her Great Grandchildren; Austin, Blake, Caleb, Ethan, Isabelle, Lexi, Liam and Vayda. Special partner in crime – David Adickes, Sister Flora Lee Farrier, Brother in Law Robert (Mary) Breault, Sister in Law Mary (Erick) Erickson, Nieces; Reenan Breault, Sharon Brown, Cindy (Tony) Green, Julie (Ken) Wills and Laurie Garnett. Nephews; Larry Hill, Craig Hill and David Nessel. Forever son in law Chris Barth and wife Deanna. Many great nieces and nephews and friends.
She was preceded in death by her parents and her husband's parents Noray (LaVenture) and Milton Bistodeau, husband DuWayne, her siblings; Murl P (Bud), Eugene and wife Lois, Delores and husband Jerry Kopvieler, Brother in Law Irving Nessel, Nephew Gene Hill, Niece Laurie Kopvieler, Niece in Law Kong Hill and bonus granddaughter Shavon Barth.
Adele struggled with declining health and dementia over the last 10 plus years. She never lost her humor, kindness and loving demeanor even while her strength and cognitive functions diminished. While her last days were fraught with one challenge after another and a surprising diagnosis that led to a painful last week, we are grateful to know that she is with her Savior, her love and restored. She is again the tan, athletic, tomboy with skinny legs. Running, climbing, skating, fishing, hitting the links, throwing strikes at the lanes, gardening, painting and loving us from her Heavenly Home.